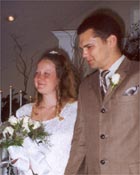 Holly and David get pronounced. Sorry, didn't get a shot of them kissing. Well, not at this point anyway.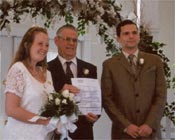 And here's the proof of the whole thing. The man in the center performed the ceremony. I don't know his title or name, unfortunately.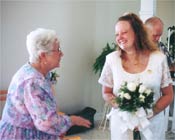 Holly talking to Gramma just afterwards.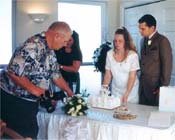 Here we see our photographer cleverly placing the bouquet right over some tacky plastic forks that somebody lined up in front of the cake. Who needed them anyway??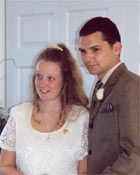 Holly, David, and knife take 1.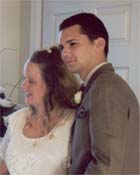 Holly, David, and knife take 2.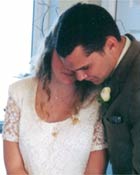 Action!!!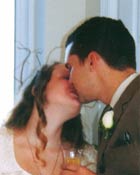 No I didn't mean "Action"...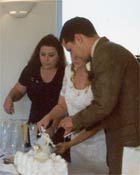 Nance, Holly, and David prepare to serve cake.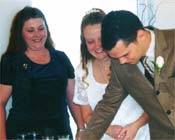 More cake.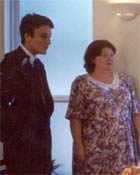 Me and Aunt Shari await the cake.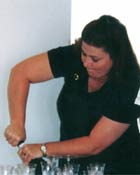 Nancy opens the sparkling apple cider for those of us who can't drink for some reason or another.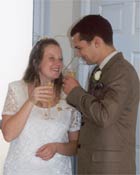 Sort of a preliminary toast.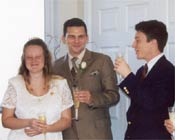 Here they have the nerve to put me on the spot and tell me to make a speech.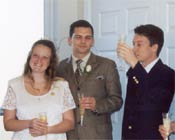 Well I guess it turned out OK.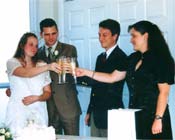 I mean geez, they took enough photos of it.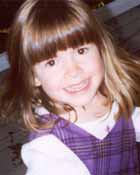 There's that niece of David's that wouldn't smile earlier. Ha ha!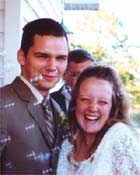 And to top things off, we all went deep sea diving afterwards.